---
News
Posted by Karen Pugh on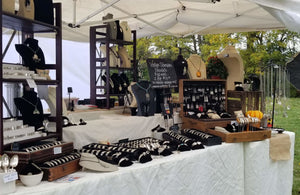 Wow!  Was I ever so glad to be able to get out and about this past weekend.  I participated in the Floral City Strawberry festival and though the weather was a bit sketchy on Saturday, Sunday was beautiful and the crowd came out.  It seems from talking to the people, they were just as eager to be out and about as we artists were.  I had not done an event since last year, and I do not mind telling you, I was getting a bit stir crazy.  I miss my peeps.  I miss seeing their faces, the interaction as I...
---
Posted by Karen Pugh on
Seems a cold front has followed me south and it is very chilly, windy and down right cold here today.  So I thought it was the perfect time to reprise my recipe for warm potato soup.